1-minute keto muffins will stop the snack-time panic.
At only 2g net carbs, these QUICK keto muffins are the perfect versatile keto snack.
They are the ultimate lifesaver for a quick empty lunch box emergency too.
In this post, you'll find 5 flavour variations (see below). Which one will be your favourite?
1-Minute Keto Muffins
If you are new to low-carb, these are an absolute lifesaver. Sweet or savoury, 1-minute keto muffins have got you covered.
I have given you 5 variations below, but members from my Facebook group, have probably given my 100 more.
If you come up with your own favourite flavour, please make sure to share it with us in the comments. We love hearing from you!
How To Serve Keto Muffins
1-minute keto muffins are my latest go-to recipe. They only require 4 ingredients and are ready in uh-um ... 1 minute.
Not only that, but I have also been experimenting with them by adding other ingredients to make them sweet or savoury (see the 5 variations below).
They can replace bread, bagels, muffins and even cupcakes. The possibilities are almost endless.
I serve these low-carb muffins with soup, with bacon and eggs (say hello to your very own keto egg mcmuffin), or sweet as a quick dessert with whipped cream.
Want to start low-carb FAST? Learn how to start low-carb with the best deal of the year! DON'T WAIT - BUY NOW
Super Fast Keto Muffin "Bread"
These super-fast 1-minute keto muffins have quickly become an absolute staple in our house. We keep on dreaming up new variations. The fact that they are keto, is an absolute bonus.
If you are in the middle of the crazy morning rush, your pantry is running low and you don't know what to pack for lunch, make a quick and easy keto muffin, split them in half, add your child's regular favourite sandwich filling, and tell them it's a mini slider!
Technically, I should call these 45-second muffins, as my microwave is 1220W. You may need to adjust cooking times according to your microwave. There is also an alternative coking method in the recipe if you don't have a microwave.
More recipes with videos you may like:
1-Minute Keto Muffin Options
These are the variations we have dreamt up so far, simply add the following -
sweet - 1 tsp sweetener
nutty - 2 tsp nut butter and 1 tsp sweetener
cinnamon - 1 tsp sweetener and 1 tsp cinnamon. When cooked, also add butter and sprinkle with sweetener and cinnamon
cheesy - 2 tbsp grated/shredded cheese and 1 tsp chopped chives
spinach and feta - 2 tbsp grated shredded cheese and some chopped cooked spinach leaves
Once the 1-minute keto muffins are cooked, you can eat them as they are or you can toast them. I gave my toaster away 3 years ago, so I lightly fry them in the frying pan when I am making a big breakfast.
But my favourite way is to eat them hot with lashings of butter, sweetener and cinnamon.
More Low-Carb Bread Recipes & Low-Carb Cracker Recipes ...
Learn how to make easy family meals that everyone will enjoy It's not about doing more, it's about doing things differently. DON'T WAIT - BUY NOW.
Zero Waste with Purposeful Cooking
One of the best things about small batch recipes is that nothing goes to waste. It's just enough to enjoy without worrying about food spoilage.
That's one of the many reasons why I think cooking with purpose can make a huge difference in our food budget.
One of the biggest concerns new low-carb followers have is that concern for the cost of speciality ingredients but you can easily pick up some tips on how to eat healthy and save money.
Luckily you will probably have all the ingredients you need to make these gluten-free low-carb muffins, in your pantry right now. So there's no need to head out to the grocery store and buy anything new.
Get your FREE pantry printable Low-Carb And Keto Emergency Food Lists.
1-Minute Keto Muffin Toppings
Or for a decadent treat, why not add some homemade sugar-free Nutella to top them off. Watch out, however, they could become addictive.
The keto muffins would also be a quick and tasty idea for easy keto casserole dumplings.
Simply prepare the 1-minute keto muffins as per the recipe, then cut them in half and pop them top of any casserole, maybe even sprinkle the casserole and dumplings with cheese before putting the lid back on. How amazing would that be?
If it is a lamb casserole, I would add 1 tsp dried or fresh rosemary to each muffin mix.
More Low-Carb Dinner Recipes ...
Coconut Flour Variations
RECIPE UPDATE & TOP TIPS: Readers have a love/hate relationship with this recipe. I have discovered this is because coconut flour quality varies so much. So 1 tsp of one coconut flour brand may be equivalent to 1 tbsp of another coconut flour brand - hence the variations we have seen in the comments below.
This is the only drawback of using these wonderful new unprocessed whole-food ingredients, they aren't as standardised as the ultra-processed and high-carb baking ingredients out there.
5 top tips:
1: Ensure you measure carefully. You wouldn't believe how many readers have got the baking powder mixed up with the coconut flour
2: Mix thoroughly. You don't want a clump of coconut flour or baking powder stuck in the corner of your microwaveable mug.
3: Allow the batter to thicken. Coconut flour has the most amazing ability to absorb and swell when liquid (the egg) is added. Not allowing it to thicken is when some readers have decided to microwave it for a longer period and end up with a dry overcooked muffin.
4: If all the tips above fail to create a regular bread batter for the keto muffin, add another tsp of coconut flour and mix again.
5: Flavour, flavour, flavour. Whether it is more spices and cheese for a savoury muffin or additional sweetener and cinnamon for a sweet muffin, always flavour to your personal taste. No one wants a dry tasteless muffin. There's no fun in that.
Get your FREE meal plan and 50 snack ideas
Subscribe and DOWNLOAD NOW.
Print
The perfect quick keto bread is this 1-minute keto muffin. Grain free little snacks that can be made both sweet OR savoury depending on which flavours you decide to add.
Recipe Video (tap to play)
Calculate ingredients
Instructions
Grease a ramekin dish (or very large coffee mug) with coconut oil or butter.

Mix all the ingredients together with a fork to ensure it is lump free.

Cook the 1-minute keto muffin in the microwave on HIGH for 45 seconds - 1 minute. Alternatively, they can be baked in an oven, at 200C/400F for 12 minutes.

Cut in half and serve. (toasting or frying is optional)
Nutrition Facts
1-Minute Keto Muffins
Serving Size
1 keto muffin
Amount per Serving
% Daily Value*
-
* Percent Daily Values are based on a 2000 calorie diet.
This website provides approximate nutrition information for convenience and as a courtesy only. For the most accurate nutritional data, use the actual ingredients and brands you used in your preferred nutrition calculator such as Cronometer.com
Become a PRO member
EVERYTHING you need to FINALLY to reach your goal AND stay there - JOIN US
Cookbooks & Meal Plans
Make life easy. All the resources you'll ever need - SHOP NOW
START SHOPPING
LOW-CARB STARTER PACK: Want to start low-carb FAST? Learn how to start TODAY ... even if you're a complete beginner Get all the resources and action plans you need - DON'T WAIT - BUY NOW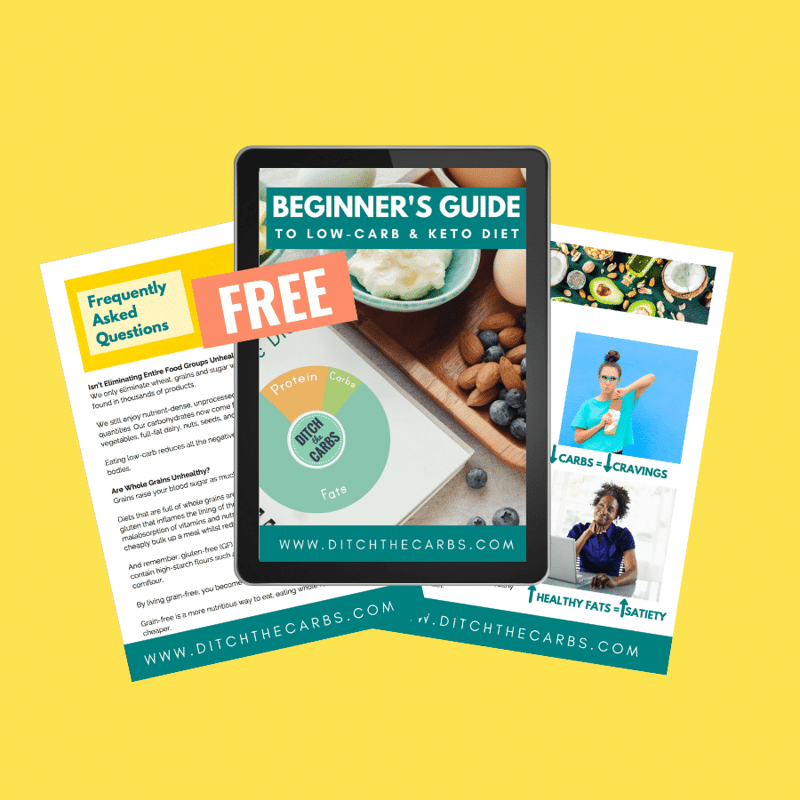 Join our FUN mini-challenge and weekly newsletter. You will learn:
30 ways sugar and carbs are damaging YOU
Learn how to snack smarter
Learn how to eat our AND stay low-carb
Receive instant access to your FREE Beginner's Guidebook as a FREE newsletter bonus.
You are also agreeing to our Privacy Policy.