This super simple recipe for coconut flour low-carb zucchini bread is naturally grain free and gluten free. It's also dairy free - so it's Paleo too!
Who knew zucchini bread was a sweet recipe? Not me until a reader sent me a request to develop a low-carb version of their favourite zucchini bread recipe..
While you garden is bountiful with zucchini/courgettes, fill up the freezer with coconut flour low-carb zucchini bread. It is perfect for low-carb lunches and portion controlled sweet treats.
Low-Carb Zucchini Bread
I was asked to develop a low-carb zucchini bread recipe, but using coconut flour because their child has an almond flour allergy - game on! I love a challenge.
Zucchini bread is a sweet bread recipe, similar to banana bread. Best served warm or toasted, with butter and I personally like to sprinkle cinnamon and little sweetener on top for a real treat when I have a sweet craving.
Luckily at only 1.3g net carbs per slice, we can happily call this a keto zucchini bread too.
Coconut Flour Low-Carb Zucchini Bread
If you have been here for a while you will know I am developing more recipes using coconut flour rather than almond flour.
Why? There are various reasons, but primarily because almond flour has a high ratio of inflammatory omega 6, almond flour is expensive, and many children are either allergic to almonds or they attend a school with a nut free policy.
Take a look at my recipe finder for coconut flour recipes.
LOOK at how easy this sweet coconut flour low-carb zucchini bread recipe is to make.
Low-Carb Zucchini Bread Muffins
Now if you are needing a faster recipe that is also portion controlled, why not bake the mixture into low-carb zucchini muffins? The recipe will easily make 8 large zucchini bread muffins, or 15 mini zucchini cupcakes.
The coconut flour low-carb zucchini bread muffins/cupcakes will bake so much faster. Each oven will vary and so will the size of the muffin/cupcake tins you chose to use - but they generally take 10 - 15 minutes to bake.
Always test the centre to ensure a fork pressed inside, comes out clean.
Low-Carb Zucchini Chocolate Bread
Now if you are loving zucchini bread, or if your garden is growing with zucchini/courgettes, why not make a low-carb zucchini chocolate bread too?
Simply add 1/4 cup unsweetened cocoa powder, an extra egg and extra sweetener (to your taste), and mix through.
Love low-carb bread recipes? You'll love these too.




Coconut Flour Low-Carb Zucchini Bread
A super easy recipe for coconut flour low-carb zucchini bread. A sweet low-carb baking recipe that can easily be made as a loaf, muffins or mini cupcakes. Serve with cream cheese frosting for a real special treat.
Print
Pin
Share
Comment
Email
Calculate ingredients
Adjustable servings >>
15
Instructions
Place all the dry ingredients in a large mixing bowl. Stir gently.

Add the vanilla, eggs, grated/shredded zucchini and walnuts (optional). Stir gently.

Place into a lined loaf tin or silicon loaf tin, and bake at 180C/350F. Cooking times seems to vary considerably with this recipe. Depending on your oven, the feedback I am getting from reader's is that it may take anywhere between for 20-40 minutes. Always test the bread. You will know when it is cooked when a knife comes out clean when pushed into the centre.
Nutrition
Nutrition Facts
Coconut Flour Low-Carb Zucchini Bread
Amount per Serving
% Daily Value*
-
* Percent Daily Values are based on a 2000 calorie diet.
Want to start FAST?
DOWNLOAD - your FREE 5-day meal plan & shopping list and start today
4-WEEK QUICKSTART ... NOW OPEN
START NOW - it's FINALLY time to reach your goal AND stay there
Cookbooks
SHOP NOW - make life easy. all the resources you'll ever need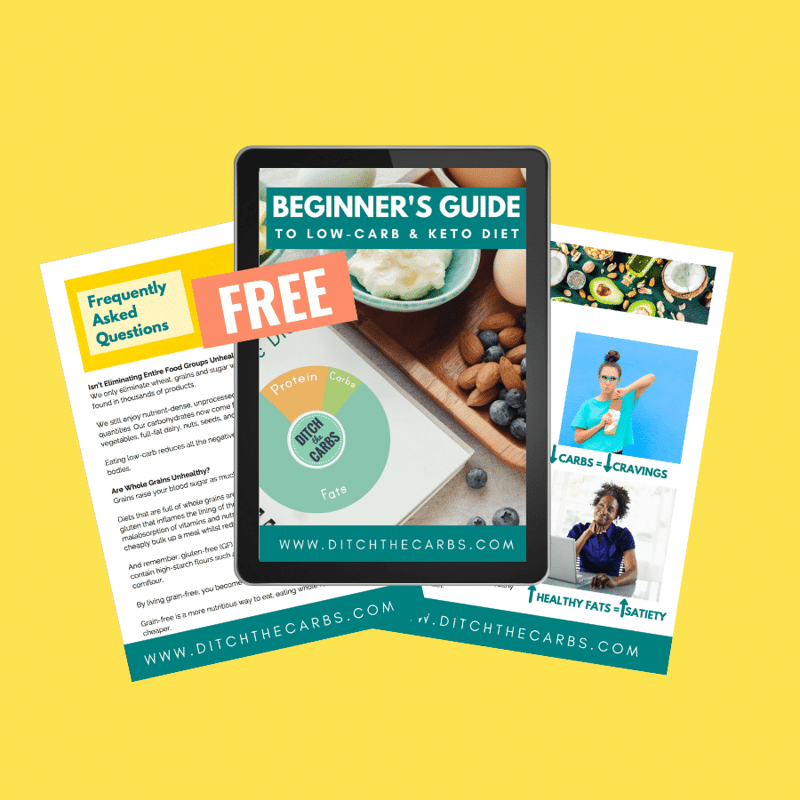 Join our FUN mini-challenge and weekly newsletter. You will learn:
30 ways sugar and carbs are damaging YOU
Learn how to snack smarter
Learn how to eat our AND stay low-carb
Receive instant access to your FREE Beginner's Guidebook as a FREE newsletter bonus.
You are also agreeing to our Privacy Policy.