Keep life and food simple by making my crustless bacon and egg pie. Going crustless is a brilliant, fast, easy and cheaper way to be gluten free. Stop buying gluten-free flours, or any gluten-free product and start saving your money.  They're highly processed carbs rich in starches.
Crustless Bacon And Egg Pie
This is such an easy recipe. Just turn the oven on and by the time it is up to temperature, you will have thrown all the ingredients together. It is also a fabulous way to add extra greens such as spinach, zucchini, asparagus, or any leftover vegetables.
Eat it warm with a side salad, or cold for work, school lunch or a picnic. You can even add your favourite herbs such as basil, chilli, rosemary or maybe a pinch of curry powder.
Crustless Bacon & Egg pie. An incredibly easy recipe and fabulous for lunches and snacks.
Leave a comment below, on what you add to your crustless bacon and egg pie.
I love making crustless pies (or some may say, quiche or frittata) because you can simply throw anything in from your vegetable drawer, or leftover cooked meat and voila. All of a sudden you have breakfast, lunch, dinner or a snack made. They are sturdy enough to survive the school lunch box and adaptable enough to suit even the most pickiest child.
Crustless Bacon And Egg Pie
Crustless bacon and egg pie is an absolute classic. An easy recipe to whip up for a picnic, dinner, lunch or gathering. Cut into squares, triangles or fingers to enjoy this low carb keto dish.
Print
Pin
Rate
Calculate ingredients
Instructions
Whisk the eggs and milk with a fork.

Add all the other ingredients, reserving the tomatoes and extra cheese for the top.

Add any vegetables and stir gently.

Pour into a 20cm/8inch square baking dish that has been greased and lined with baking paper.

You may need to move the vegetables in the dish with the fork so they are evenly distributed.

Place the sliced cherry tomatoes and cheese on top.

Bake at 180C/350F for 20-30 minutes
Notes
The nutritional values, are calculated on the recipe without added vegetables. You will have to calculate the vegetable values depending on what and how much you add to the pie.
Nutrition
Nutrition Facts
Crustless Bacon And Egg Pie
Amount Per Serving (1 slice)
Calories 201
Calories from Fat 159
% Daily Value*
Fat 17.7g27%
Total Carbohydrates 1.6g1%
Protein 18g36%
NET carbs 1.6g
* Percent Daily Values are based on a 2000 calorie diet.
Want to start FAST?
DOWNLOAD - your FREE 5-day meal plan & shopping list and start today
DITCH THE CARBS PRO
JOIN TODAY - it's FINALLY time to reach your goal AND stay there
Cookbooks
SHOP NOW - make life easy. All the resources you'll ever need
Garnish The Top With Cheese & Cherry Tomatoes
All cooked with a cheesy crust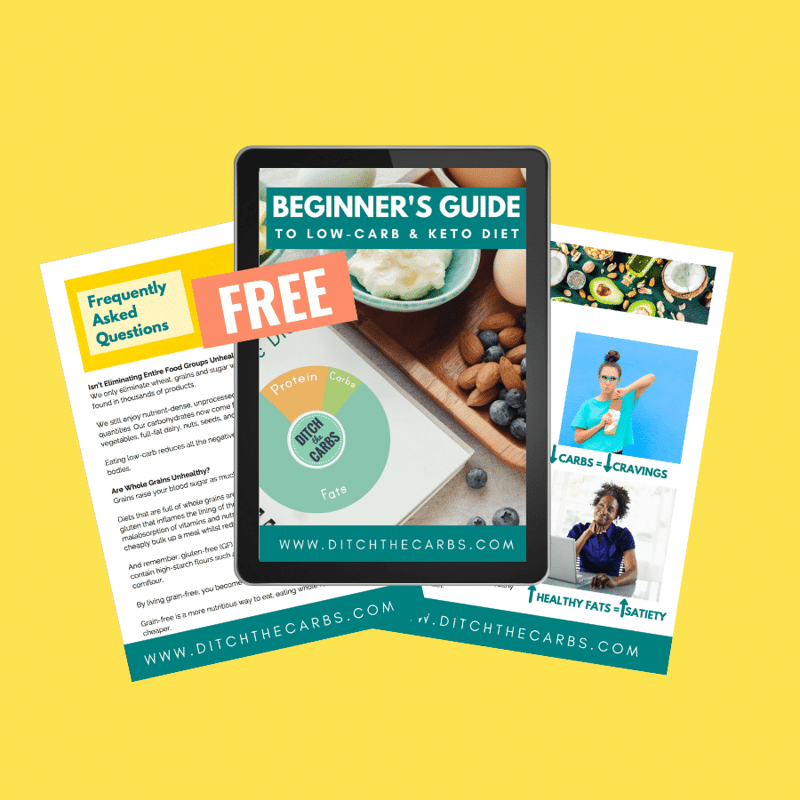 Join our FUN mini-challenge and weekly newsletter. You will learn:
30 ways sugar and carbs are damaging YOU
Learn how to snack smarter
Learn how to eat our AND stay low-carb
Receive instant access to your FREE Beginner's Guidebook as a FREE newsletter bonus.
You are also agreeing to our Privacy Policy.