Ditch the canned soup – make your own low-carb cream of mushroom soup!
If you've been scouring the groceries for the cream of mushroom soup, then you're in luck. This recipe is easy to make and easy on the carbs. It's only 5.6g net carbs per serve.
Here's how you can make the soup you love and avoid all the unnecessary carbs and ingredients in regular canned soup.
How to make easy homemade soup
We've all gone down the aisle where the readymade, canned soups are before and didn't really think twice about it. We would have them for lunch or dinner alongside our favourite bread and we were satisfied with how it tasted and filled us.
They were probably a staple on those winter evenings at home. Of course, that was until we realised how much of the ingredients were added wheat, added sugar and other processed nasties.
Upon closer inspection of the labels, you probably were amazed at how many canned soups contain added sugar and wheat. And real cream? Not a chance. More like milk powder substitutes and the like.
Low-Carb Mushroom Soup
But hey, don't sweat it! Luckily, there is a real, better and – most importantly – healthier way to make your own cream of mushroom soup. This recipe is absolutely low-carb, no-nonsense and really easy to make.
I understand how much easier it is to just open a can of soup, but there are so many upsides to making it yourself. You don't have to worry about BPA and other toxins getting in your soup because of the can itself, for example. Soups in cans can contain a lot of sodium – way more than you need! And then there are the preservatives and other additives.
Need to sneak in more vegetables in your diet? This Keto Cream of Mushroom Soup is a must-try!
The wonderful thing about making your own cream of mushroom soup is that it's a great way to sneak in more vegetables in your diet. This is surely a recipe to add to your list especially when you're getting your family to increase their intake their vegetables. Now, who wouldn't want that?
Easy healthy family recipe for low-carb cream of mushroom soup. Follow the step-by-step instructions - insanely delicious in 20 minutes.
You can say goodbye to those cans laced with chemicals and misleading ingredients. You just might have the ingredients for your recipe in your kitchen right now. Try this out for yourself and you'll be glad you made the switch!
Low-Carb Bread Recipes
If you love toast with butter to serve alongside your low-carb soup, here are my favourite low-carb bread recipes.
This is the best cream of mushroom soup I've tried so far! Let me know if you've tried it too.
It only takes 6 simple ingredients to make this low-carb cream of mushroom soup, and it only takes 20 minutes TOTAL.
Please rate this recipe.
Low-Carb Cream Of Mushroom Soup Recipe
Easy healthy family recipe for low-carb cream of mushroom soup. Follow the step-by-step instructions.
Review Recipe
Print
Pin
Email
Calculate ingredients
Instructions
In a large saucepan, heat the butter and gently fry the onion, garlic and mushrooms until soft. This should take about 5 minutes.

Reserve a few cooked mushrooms as garnish, then pour the vegetable stock into the saucepan, stir and simmer gently for another 5 minutes,

Remove the saucepan from the heat, puree until smooth using a stick blender with the blade attachment. Add the cream and gently heat again, but do not allow to boil.

Serve with a drizzle of cream and a few mushroom slices for garnish.
Nutrition Facts
Low-Carb Cream Of Mushroom Soup Recipe
Amount per Serving
% Daily Value*
-
* Percent Daily Values are based on a 2000 calorie diet.
YOUR HOLIDAY PANTRY & GIFT GUIDES
.
Approximate nutrition information is provided for convenience and as a courtesy only. For the most accurate nutritional data, use the actual ingredients and brands you used in your preferred nutrition calculator.
SaveSave
SaveSave
SaveSave
SaveSave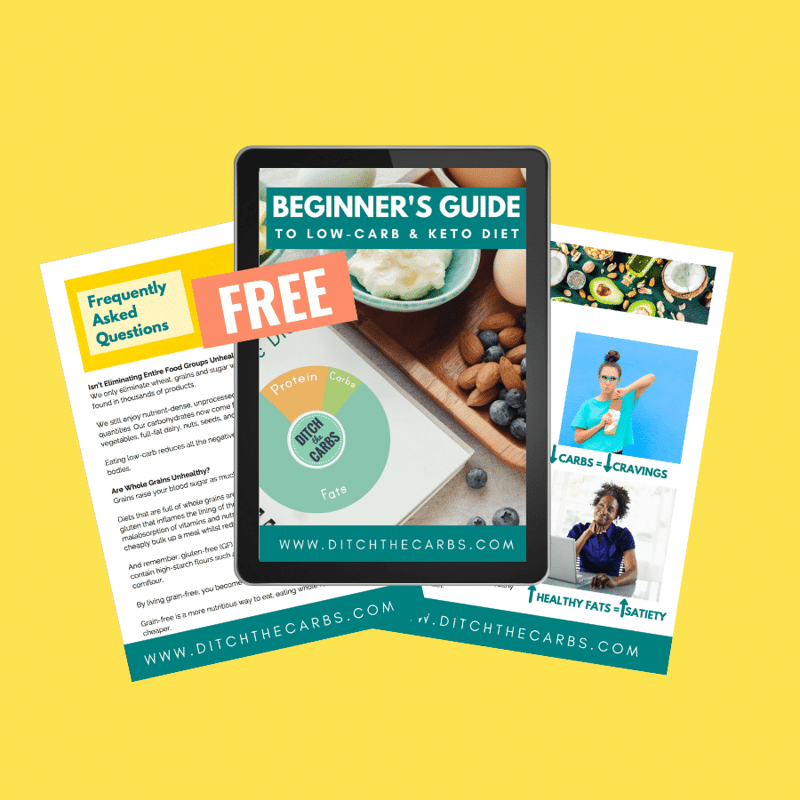 Join our FUN mini-challenge and weekly newsletter. You will learn:
30 ways sugar and carbs are damaging YOU
Learn how to snack smarter
Learn how to eat our AND stay low-carb
Receive instant access to your FREE Beginner's Guidebook as a FREE newsletter bonus.
You are also agreeing to our Privacy Policy.