Thai chicken lettuce cups are super easy to make and fun to eat, but don't think your going to win any prizes for the neatest eater. Children love being allowed to eat with their hands and get messy.
Scroll below to watch the quick cooking video.
Thai Chicken Wraps
Are you always looking for more ways to sneak more vegetables into your reluctant children? Thai chicken lettuce cups may be the answer.
I like to make the Thai chicken dish with a variety of cooked vegetables, and in addition, have a further selection of raw vegetables on the table so everyone may select the vegetables they love to add to make their lettuce cup, just the way they like it. The raw vegetables also add a little crunch texture that we all love.
Make sure you cut the raw vegetables thin or small enough so they sit easily within the lettuce cup. Why not let your children choose which vegetables to serve on the table, and let them prepare and cut them. They will have a feeling of accomplishment and ownership over their dinner.
Please rate this recipe.
Thai Chicken Lettuce Wraps Recipe
Thai chicken lettuce cups are perfect for children to fill up with their favourite vegetables.
Review Recipe
Print
Pin
Email
Calculate ingredients
Instructions
Heat the coconut oil in a saucepan and fry the red onion, garlic, ginger and chilli flakes until cooked but not browned.

Add the chicken, stirring to ensure it cooks thoroughly.

Once the chicken is thoroughly cooked, add the prepared vegetables and coconut cream.

Simmer and stir gently or 5 minutes. Add the desiccated coconut to thicken the sauce.

Remove from the heat and add the lime juice.

Serve the Thai chicken in a large dish on the table, with a plate of large lettuce leaves (cups) and your selection of extra raw vegetables.

To asemble, place a spoon of the thai chicken mixture on the lettuce cup, add more vegetables, roll up the best you can. Go back for more.
Nutrition Facts
Thai Chicken Lettuce Wraps Recipe
Amount per Serving
% Daily Value*
-
* Percent Daily Values are based on a 2000 calorie diet.
YOUR HOLIDAY PANTRY & GIFT GUIDES
.
Approximate nutrition information is provided for convenience and as a courtesy only. For the most accurate nutritional data, use the actual ingredients and brands you used in your preferred nutrition calculator.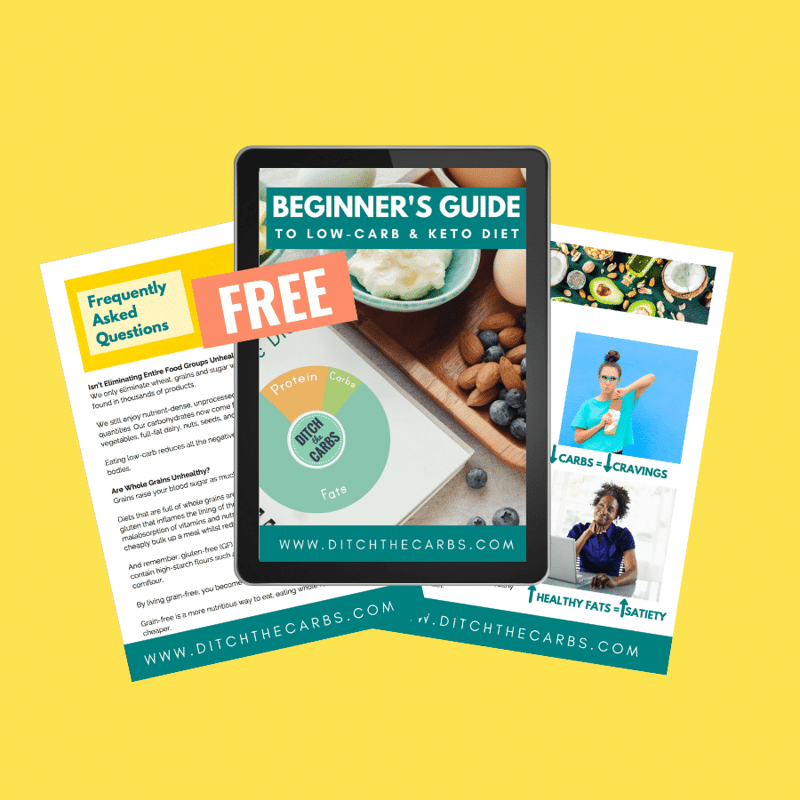 Join our FUN mini-challenge and weekly newsletter. You will learn:
30 ways sugar and carbs are damaging YOU
Learn how to snack smarter
Learn how to eat our AND stay low-carb
Receive instant access to your FREE Beginner's Guidebook as a FREE newsletter bonus.
You are also agreeing to our Privacy Policy.