Who else loves a low carb big breakfast? Not every day but at weekends when you have more time, this is a real treat.
Big Breakfast - Low Carb and so much better than cereals.
Cooking a big breakfast at the weekend is a nice treat. Add as many low carb vegetables as you can, lots of eggs and of course bacon. why not have a fully loaded big breakfast and add wilted spinach cooked in the bacon fat. Tasty and nutritious.
If you want to know what is wrong with having cereals, grains and juice in the morning, this is an excellent post to read. If you understand what is wrong with cereals and grains, you will understand what is wrong with modern food production. You'll thanks me that you can enjoy a big breakfast again, without the guilt the low-fat nonsense has given us.
The low-carb big breakfast - so much healthier than cereals and grains to kick start your day.
You won't miss toast or cereals ever again. This is what we have been missing out on. Tasty and so nutritious. Add leafy greens and tomatoes for colour and antioxidants.
Grains raise your blood sugars, raise your insulin, raise your appetite and cause fat storage. Now add that glass of juice in there and you're over your limit for the day. Grains are highly processed and add zero nutrition to your day. Now mix it up and have a big breakfast instead, you have protein, healthy fats, vitamins, minerals, vegetables and nothing is falsified or fortified. It will also keep you fully for longer so you don't get that insatiable need for morning tea.
LCHF Big Breakfast
The ultimate LCHF big breakfast. This will keep you full, pretty much all day. Add plenty of low starch vegetables.
Print
Pin
Share
Comment
Share by Email
Calculate ingredients
Ingredients
2

eggs - medium

2

slices

bacon

mushrooms

tomatoes

spinach
Instructions
Heat oil such as olive oil or coconut oil in the frying pan.

Fry the eggs, bacon, mushrooms and tomatoes until cooked.

Remove from the pan and add some leafy greens to the bacon fat, stir until wilted. Serve and enjoy.
Notes
There's not much of a recipe here but just to say go all out at the weekend and indulge in a big breakfast.
I'm sure this is how most people think we eat every day - bacon and eggs. But it is the addition of as many vegetables as you can that takes it to another level and makes it so nutritious. Even add some cream cheese so the children will eat their greens.
Nutrition
Nutrition Facts
LCHF Big Breakfast
Amount Per Serving
Calories 309.3
Calories from Fat 232
% Daily Value*
Fat 25.8g40%
Sodium 416.2mg18%
Potassium 208.6mg6%
Total Carbohydrates 1.2g0%
Protein 16.6g33%
Vitamin A 475.2IU10%
Vitamin B1 0.2mg13%
Vitamin B6 0.3mg15%
Vitamin B12 1µg17%
Vitamin D 1.9µg13%
Vitamin E 1.1mg7%
Calcium 49.3mg5%
Folate 41.4µg10%
Iron 1.5mg8%
Magnesium 15.8mg4%
Selenium 35.9µg51%
Zinc 1.7mg11%
NET carbs 1.2g
* Percent Daily Values are based on a 2000 calorie diet.
Want to start FAST?
DOWNLOAD - your FREE 5-day meal plan & shopping list and start today
4-WEEK QUICKSTART
START NOW - it's FINALLY time to reach your goal AND stay there
Cookbooks
SHOP NOW - make life easy. All the resources you'll ever need
What else do you love to add to your big breakfast? I love wilted spinach, haloumi, zucchini, mushrooms, and butter - nom nom.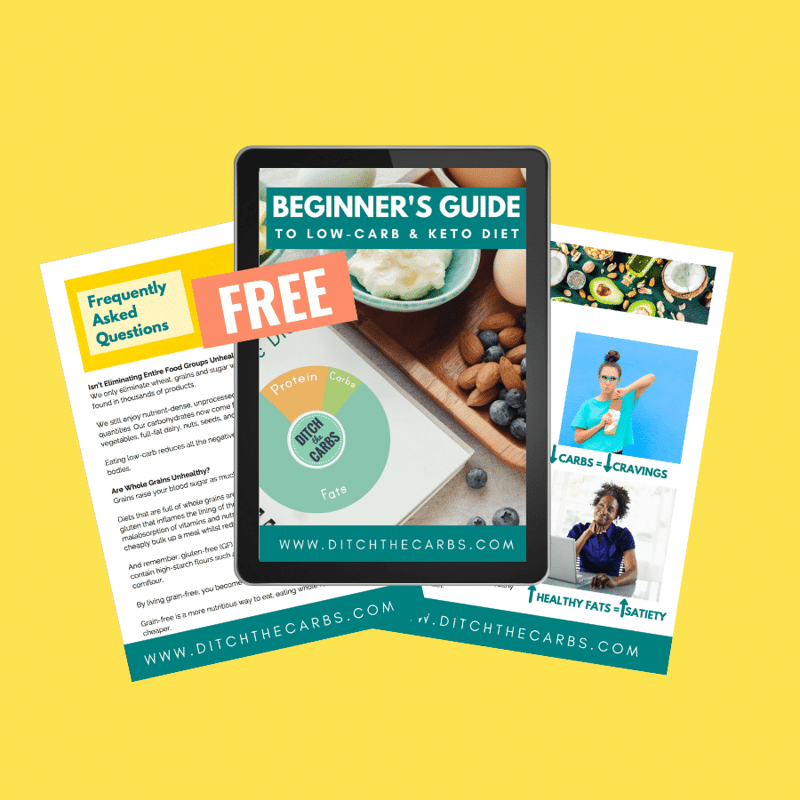 Join our FUN mini-challenge and weekly newsletter. You will learn:
30 ways sugar and carbs are damaging YOU
Learn how to snack smarter
Learn how to eat our AND stay low-carb
Receive instant access to your FREE Beginner's Guidebook as a FREE newsletter bonus.
You are also agreeing to our Privacy Policy.